15 Minute Manifestation™ is a self-help (audio) program that is designed to automatically reprogram your subconscious mind, to dissolve your limiting beliefs and scarcity mindsets, and allow you to manifest the life of your dreams. It consists of three audio tracks:
Track 1 is called "Your Natural State." – During the first week, 15-Minute Manifestation will begin to open your mind up to the natural state of unlimited abundance. This track will help you to dissolve the limiting beliefs and stories that are currently PUSHING AWAY what you really want. "Your Natural State" rewire your brain to the condition rich with endless possibility and not endless scarcity.
Track 2 is called "Your New Story." – Your OLD story has been sabotaging the financial breakthroughs you know you SHOULD have already experienced. So, when The Editor "learns" your NEW story, all of the negative circumstances that used to own your attention… just naturally fall away, and get replaced with what you really want. And obviously, the more you observe, in your current reality, what you really want, the faster you'll gain an incredible amount of momentum towards getting.
Track 3 is called "Moving Towards Abundance." – It helps reverse this cycle of negativity and scarcity, and helps focus your attention on telling your new story of abundance and prosperity.
*Take A Look At What People Are Saying…(*Disclaimer: Individual results may vary.)


"From the minute I put on my headphones, I instantly felt a different INSIDE my head! It was like my brain felt alive and in tune…in a way I'd never experienced. It was crazy. The most amazing part was, within the first week, I could absolutely tell a difference in what I was manifesting. I had attracted and closed two HUGE contracts! Cha-ching!"

"Using your frequencies has felt like the changing of the seasons…like from winter to spring…only it didn't take months and months. I've got abundance popping up like flowers everywhere in my life. Thank you, thank you, thank you!"

"When I first tried listening to your tracks, I was totally skeptical. Especially when I didn't experience "instant" results in the first day or two. But I stuck it out, and I am so glad I did. Something powerful happened between week two and three. Relationships started getting deeper and more meaningful. My bank account started getting fatter. I had more energy. I even had friends ask what was up with me! I just smile and point to my headphones."
15 Minute Manifestaion™ is backed with a 365 Days No Questions Asked Money Back Guarantee. If within the first 60 days of receipt you are not satisfied with 15-Minute Manifestaion™, you can request a refund by sending an email to the address given inside the product and we will immediately refund your entire purchase price, with no questions asked.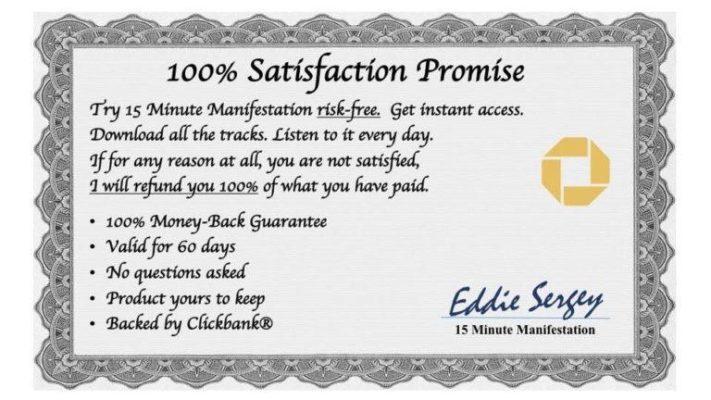 ---
Once you have clicked the "Add To Cart" button then, you will be taken to the secure checkout page as below screen. Just enter your information, and you will then be given instant access to the entire 15-Minute Manifestaion™ by Eddie Sergey.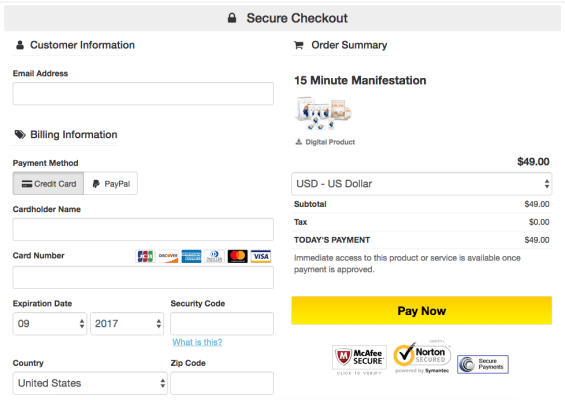 And, you will be able to access your copy in less than five minutes after making your order. The digital product is available in PDF format and should be readable on a tablet, smartphone, or computer.